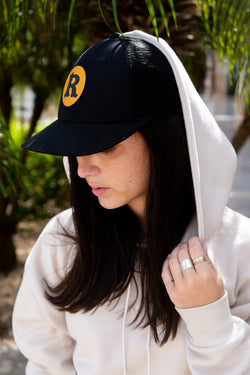 Final sale
One size, Ajustable. 
Made by PUKKA
SHIPPING
We're proud to use bags from www.ecoEnclose.com, made of 100% recycled plastic, for all shipping.
We offer free shipping in Canada for orders over 150$ before taxes.
Our shipping delays varies in between 5 to 14 open business days. (Due to COVID-19 crisis, delays may vary.)
RETURN POLICY
CONDITIONS
Clearance items are final sale.
All accessories are final sale, for hygiene purposes. For example, our reusable water bottle. *
We do not do exchanges. However, when processing your return, you may select the refund as a credit option, which will convert the return value into a gift card. Then, you'll be able to use the gift card for your next purchase.
To make a return,

you have 10 days after your package delivery

, to request a return label and send the package back to us.
No exceptions will be accepted. Make sure to respect and read the conditions below. Otherwise, it will not be possible for you to generate a return or to get a refund.

 

Any return sent without being processed through the return portal will not be accepted and will be sent back to you at the current rates.**

 

If an item is returned and fails to meet the return conditions during the verification process, the refund request will be refused. We will then send you back your item at the current rates.**
*Except for manufacturing defects.
** If we do not hear back from you within 5 days after the rejection of your return, your item will be donated to charity.
TO PROCESS YOUR RETURN
The item must be in its original condition, in order to be eligible for a return:
Not worn
Not washed
Not modified
Still with tags on
Not on clearance

All accessories are final sale
You are required to process your return request AND send back your package within 10 days of delivery. Make sure to have your original order number and email address on hand to make the request.
Fees of 7,95$ will be applied for returns refunded through credit cards. You can avoid those charges by selecting a gift card refund, during the return process.
We cover return shipping fees for all returns, but we don't refund initial shipping fees. 
Once your request is completed and approved, you will receive an email with the return label to print and apply to your package. Then, you will have to ship it back to us. Make sure to check, on the return label, which mail company you must drop the package to. We use Purolator or Canada Post, according to your location. We invite you to reuse the original mailing bag to reduce the ecological footprint! We are pleased to use 100% recycled polybags from Eco-Enclose. 100% recyclable. Because we care.
Once we receive your package, we will be able to process and refund you if the return item respects the conditions in point 1. The refund method will be the one you have selected when you processed your return request. You will receive your refund with an email confirmation from 5-7 open business days after we processed your package.
*Gift cards are not eligible for a refund and cannot be exchanged for cash. All items purchased with gift cards will be refunded through a gift card.
Complete your look with...